Electrical contractor
We specialize in outfitting your home's electrical system with money-saving devices that allow you to Plug in Safely. We install, repair, and replace all electrical items, including:
Electrical panels
Switches
Dimmers
Plugs
Light fixtures
Fans
Vents
Heaters
Thermostats
Surge, spike, and brownout protection devices
Outdoor plugs
Indoor & outdoor sensor light systems
... and much more!
Home Inspections to give you Peace of Mind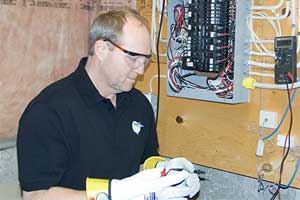 Have you tried to do your own wiring? Is the wiring in your home getting warm? What about plugs or switches? Do lights in your home flicker and/or dim?
Are there two slots in the outlets of your home instead of three? Are you unsure of the functionality of your smoke/carbon monoxide detectors? Does your insurance company want a Licensed Electrician to provide a letter stating that your house is electrically safe?
We can recommend the most cost effective way to make your home's electrical system safe and efficient.
Call us today to schedule a home inspection.
We're more than just electrical!
We're proud of the handyman services we offer for the interior & exterior of your home:
Basements, bathrooms, kitchens, etc.
Install, repair, or move sinks, taps, baths, showers, etc.
Install, repair, or move interior walls, doors, windows, etc.
Repairs and fabrication of decks, fences, sheds
Seniors: Do you need special help with any household problems? We can help to fix any leaks, shocks, and appliances that aren't working properly, all at an affordable price!
Ask us about what handyman services we can do for you!
More than 30 years of commercial & industrial experience
For more than 30 years, I worked for the Ford Motor Company, where I built a strong reputation for my expertise in supervision, maintenance, & inspection of all trades work. I am trained in:
Welding inspection
Preventive maintenance
Industrial electronics/PLC
Robotics controls
Standard relay logic
Workplace ergonomics
I have a strong background in controls programming and alterations to improve reliability, maintainability, and improved functionality of machinery. This results in increased productivity by eliminating repeat problems and formulating methods to prevent recurrence.
I am well known and respected in the electrical field, providing services for Industrial and Commercial, in addition to my residential services.
Contact me today for more information on First To Call's commercial/industrial services.